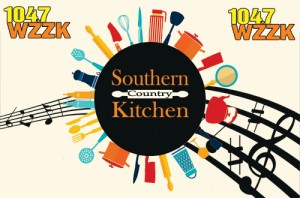 Every weekday from, we'll be cooking up plenty of Alabama's Best Country (requests are always welcome), featuring Daily Specials (a few of the hottest songs now), plus Dana will share the recipe of the week! Enjoy!
Week of 2-24-2020
Southwest Chicken Skillet (recipe courtesy of budgetbytes.com)
Prep Time: 5 mins
Cook Time: 20 mins
Total Time: 25 mins
INGREDIENTS
1cup uncooked long grain white rice
1cup salsa
5-2cups precooked shredded chicken
15 oz. canblack beans
1Tbsp chili powder
1 3/4cups chicken broth
1cup shredded cheese
2-3green onions, sliced
INSTRUCTIONS
In a large skillet, combine the rice, salsa, chicken, black beans (drained), chili powder, and chicken broth. Stir until everything is evenly combined.
Place a tight fitting lid on the skillet, turn the heat on to high, and let the skillet come to a full boil. As soon as the skillet comes to a boil, turn the heat down to low and let it simmer for 15 minutes. Make sure it is simmering the entire time, turning the heat up slightly if needed (you should be able to hear it simmer quietly).
After 15 minutes, turn off the heat, and let it rest with the lid in place for 5 more Finally, remove the lid, and fluff the mixture with a fork. All of the liquid should    be absorbed and the rice should be tender. Sprinkle 1 cup of shredded cheese over top, replace the lid, and let it sit for a few minutes, or until the cheese is melted. Meanwhile,     slice the green onions. Sprinkle the green onions over the melted cheese and serve hot.
NOTES
*Brown rice cannot be directly substituted for white rice in this recipe. Brown rice requires more liquid and a longer cooking time than white rice.
**Author used 1/2 of a store bought rotisserie chicken.
***Chili powder is not red chile powder. Chili powder is a mild blend of spices used to season chili. While some brands are a tad spicy, author uses McCormick, which is mild.
****Author used Better Than Bouillon Brand soup base to make broth
Check out Dana's Recipe of the Week Podcast!