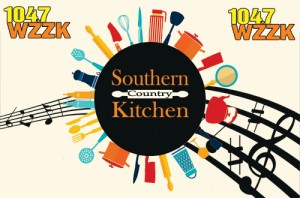 Every weekday from, we'll be cooking up plenty of Alabama's Best Country (requests are always welcome), featuring Daily Specials (a few of the hottest songs now), plus Dana will share the recipe of the week! Enjoy!
Week of 11/18/19
Easy Chicken and Dumplings from Scratch (recipe courtesy of bowlofdelicious.com)
Prep time: 15 mins.            Yields: 4 servings
Cook time: 20 mins.
Total time: 35 mins.
Ingredients:
4 tablespoons butter divided
2 carrots diced small
2 stalks celery plus their leaves diced
1 onion diced
1 1/4cup all-purpose flour divided
4 cups chicken stock/broth
1 cup whole milk divided
1 teaspoon kosher salt
1 teaspoon baking powder
1 teaspoon fresh thyme leaves or 1/2 teaspoon dried, plus more for garnish
extra salt and pepper
Instructions:
Saute' the carrots, celery, and onions in 2 tablespoons of the butter in a large pot over medium high heat until browned and soft (about 3 minutes).
Add 1/4 cup flour, stir to coat.
Add chicken broth (4 cups)and bring to a boil.
Turn the heat down to simmer and add 1/2 cup milk and the chicken. Season with salt and pepper.
Meanwhile, to make the dumplings, mix together the remaining 1 cup of flour, 1 teaspoon salt, 1 teaspoon baking powder, and 1 teaspoon fresh thyme leaves. Stir in the remaining 2 tablespoons of butter, melted, until flour mixture is crumbly looking. Add the remaining 1/2 cup of milk and stir until JUST combined. Do NOT over mix, or your dumplings may be dense.
Add spoonfuls of the dumpling mixture to the simmering pot- I recommend using a small cookie scoop for this (a tablespoon can also be used).
Cover and simmer on low for 15 minutes, or until dumplings are fluffy, cooked, and float to the top. No peeking!
Serve garnished with extra fresh thyme and fresh ground pepper, if desired.
Wanna share one of your recipe's? Email Dana! dana@wzzk.com
Check out Dana's Recipe of the Week Podcast!
Kitchen Bog