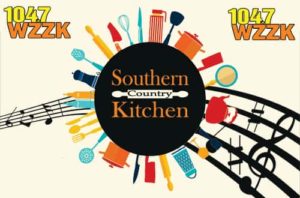 Every weekday from, we'll be cooking up plenty of Alabama's Best Country (requests are always welcome), featuring Daily Specials (a few of the hottest songs now), plus Dana will share the recipe of the week! Enjoy!
Week of 4-27-2020
ONE-POT CAJUN CHICKEN PASTA (recipe courtesy of Food Network Kitchen at foodnetwork.com)
Total time to prep and cook: 30 minutes
Yields: 4-6 servings
Ingredients:
2 TBSP. olive oil
1 pound boneless, skinless chicken thighs (about 4), cut into 1-inch pieces
2 1/2 teaspoons Cajun seasoning
2 medium green bell peppers, stemmed, seeded and cut into 1/4-inch strips
1 small yellow onion, thinly sliced
2 cloves garlic, chopped
12 ounces smooth penne (see Cook's Note) ***We used smooth Ziti***
4 cups low-sodium chicken broth
One 14.5-ounce can diced tomatoes
6 ounces cream cheese, cubed, at room temperature
Kosher salt
4 scallions, sliced, for serving
Directions:
Heat the oil in large wide pot over medium-high heat. Add the chicken and Cajun seasoning and cook, stirring occasionally, until the chicken just starts to change color and the spices are toasted, about 2 minutes.
Add the peppers and onions and cook until they just begin to release some of their juices, 3 to 4 minutes. Stir in the garlic and cook until softened, 1 minute.
Add the pasta, chicken broth and tomatoes and bring to a boil over medium-high heat. When it boils, continue to cook, stirring occasionally, until the pasta is al dente and the sauce is thickened and reduced by about half, about 15 minutes.
Remove from the heat and add the cream cheese and 1 1/2 teaspoons kosher salt. Stir until the cream cheese is combined and melted. Don't worry if the sauce looks runny, it will thicken as it sits. Top with sliced scallions.
COOK'S NOTE: The success of this recipe depends upon the specific pasta shape suggested, so we do not recommend substitutions. ***Dana used smooth Ziti***
Check out Dana's Recipe of the Week Podcast!