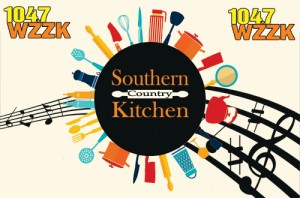 Every weekday from, we'll be cooking up plenty of Alabama's Best Country (requests are always welcome), featuring Daily Specials (a few of the hottest songs now), plus Dana will share the recipe of the week! Enjoy!
Recipe for week of 3/25/19
Cast-Iron Pork Cacciatore (recipe courtesy of Emily Nabors Hall via southernliving.com)
Ready in 30 minutes
Ingredients
4 (1-inch-thick) bone-in pork chops (about 2 1/2 to 3 lb.)
1 1/2 teaspoons kosher salt, divided
1 teaspoon black pepper, divided
2 tablespoons unsalted butter
8 ounces sliced cremini mushrooms
1 cup chopped red onion (about 1 medium onion)
1 cup chopped green bell pepper (about 1 large pepper)
1/4 cup chopped carrot (from 1 medium carrot)
2 tablespoons tomato paste
1 teaspoon chopped garlic (about 1 garlic clove)
1/4 cup dry white wine
1 (28-oz.) can whole peeled tomatoes
1/2 cup unsalted chicken stock
1 rosemary sprig
1 bay leaf
1/2 cup pitted Castelvetrano olives, halved
6 cups hot cooked bucatini pasta (12 oz. uncooked)
2 tablespoons chopped fresh flat-leaf parsley
How to Make It
Step 1
Preheat oven to 400°F. Sprinkle pork chops evenly with 1 teaspoon of the salt and 3/4 teaspoon of the pepper. Melt butter in a large cast-iron skillet over high. Add pork to skillet, and sear until deep golden brown, about 3 minutes per side. Transfer to a rimmed baking sheet, and bake in preheated oven until a thermometer inserted into thickest portion registers 145°F, about 10 minutes. Let pork rest 5 to 10 minutes.
Step 2
Meanwhile, add mushrooms, onion, bell pepper, and carrot to skillet. Spread in an even layer, and cook over high, without stirring, until vegetables begin to brown, about 2 minutes. Stir and cook until browned, about 2 minutes more. Add tomato paste, garlic, and remaining 1/2 teaspoon salt and 1/4 teaspoon pepper, and cook, stirring constantly, 1 minute. Add wine, and simmer until reduced by half, about 30 seconds. Add tomatoes, and break apart using a wooden spoon. Add stock, rosemary, and bay leaf to skillet, and bring to a simmer.
Step 3
Reduce heat to medium; add olives, and cook until liquid is reduced slightly and sauce is thickened, 10 to 15 minutes. Remove and discard rosemary sprig and bay leaf. Serve pork and sauce over cooked pasta. Sprinkle with parsley.
 Wanna share one of your recipe's? Email Dana! dana@wzzk.com
Check out Dana's Recipe of the Week Podcast!
Kitchen Bug