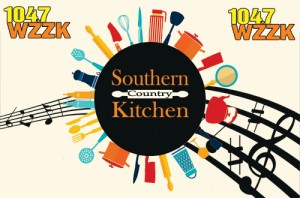 Every weekday from, we'll be cooking up plenty of Alabama's Best Country (requests are always welcome), featuring Daily Specials (a few of the hottest songs now), plus Dana will share the recipe of the week! Enjoy!
Week of 09/16/19
          One Pot Chicken Fajita Pasta
(recipe courtesy of tasty.co)
Total Time: 35 minutes
Yield: 4 servings
Ingredients
3 tablespoons oil
3 chicken breasts, sliced
1 red bell pepper, sliced
1 green bell pepper, sliced
1 yellow bell pepper, sliced
1 onion, sliced
1 teaspoon salt
1 teaspoon pepper
1 tablespoon chili powder
1 tablespoon cumin
1 tablespoon garlic powder
5 cups milk
4 cups penne pasta
1 cup pepper jack cheese, shredded
Directions
Heat oil in a large pot over high heat
Add chicken and cook until no pink is visible, about 5-6 minutes, then take the chicken out.
Add the bell peppers and onion, cooking until the onion is translucent, about 6 minutes.
Add the chicken back to the pot with salt, pepper, chili powder, cumin, and garlic powder, stirring until evenly coated, about 30 seconds.
Add the milk and the penne, stirring constantly to prevent any pasta from sticking.
Cook for about 20 minutes until pasta is cooked and the milk has reduced to a thick sauce that coats the pasta.
Add the cheese and mix until melted.
Wanna share one of your recipe's? Email Dana! dana@wzzk.com
Check out Dana's Recipe of the Week Podcast!
Kitchen Bog