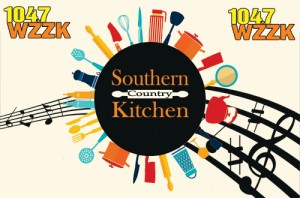 Every weekday from, we'll be cooking up plenty of Alabama's Best Country (requests are always welcome), featuring Daily Specials (a few of the hottest songs now), plus Dana will share the recipe of the week! Enjoy!
Week of 7/15/19
Broccoli Beef II (recipe courtesy of allrecipes.com)
Prep time: 15 minutes
Cook time: 45 minutes
Total time: 60 minutes
Yields: 4 servings
Ingredients
2 TBSP. low sodium soy sauce
2 TBSP. fat-free Italian dressing
1 tsp. corn starch
1 TBSP. minced garlic
1 tsp. ground ginger
¾ lb round steak, cut into strips
6 cups water
5 cubes beef bouillon
4 oz. linguine pasta, uncooked
½ cup fat-free beef broth
1 cup fresh sliced mushrooms
½ cup sliced green onion
1 lb. broccoli, separated into florets
Directions
In a shallow glass dish or bowl, stir together the soy sauce, Italian dressing, cornstarch, garlic and ginger. Place steak strips in the mixture to marinate for 15 minutes.
While the beef is marinating, combine the bouillon cubes in w
Pineapple Baked Chicken
(recipe courtesy of Laura Rege via delish.com)
Prep time: 10 minutes
Cook Time: 30 minutes
Total time: 40 minutes
Yield: 4 servings
INGREDIENTS
3/4 tsp. Italian seasoning
1/2 tsp. sweet paprika
1/4 tsp. garlic powder
4 boneless skinless chicken breasts (about 2 lb.)
1 1/2 c. shredded mozzarella
2 tbsp. freshly grated Parmesan
4 thin pineapple rounds
1/4 c. diced red onion
2 tsp. freshly chopped cilantro
Freshly ground black pepper
Kosher salt
2 tbsp. extra-virgin olive oil
DIRECTIONS
Preheat oven to 375°. In a small bowl, combine Italian seasoning, sweet paprika, and garlic powder. Season chicken with salt and pepper.
In a large ovenproof skillet over medium-high heat, heat oil. Cook chicken on top side until golden, about 5 minutes. Remove from heat and sprinkle all over with seasoning mixture.
Sprinkle tops of chicken with 1 cup mozzarella and most of Parmesan. Arrange a pineapple round on top of each piece of chicken. Sprinkle with remaining ½ cup mozzarella and remaining Parmesan.
Bake until cheese is melty and chicken is cooked through, about 10 minutes.
Garnish with red onion and cilantro before serving.
Wanna share one of your recipe's? Email Dana! dana@wzzk.com
Check out Dana's Recipe of the Week Podcast!
Kitchen Bug