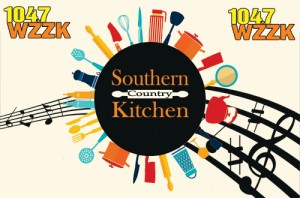 Every weekday from, we'll be cooking up plenty of Alabama's Best Country (requests are always welcome), featuring Daily Specials (a few of the hottest songs now), plus Dana will share the recipe of the week! Enjoy!
Recipe for week of 1/21/19
King Ranch Chicken Casserole
(recipe courtesy  southernliving.com)
Prep time: 35 minutes
Cook time: 35 minutes
Yields 6-8 servings
Ingredients
I large onion, chopped
1 large green bell pepper, chopped
2 Tbsp. vegetable oil
2 Cups chopped cooked chicken
1 (10-3/4 oz) can cream of chicken soup (undiluted)
1 (10-3/4 oz) can cream of mushroom soup (undiluted)
1 (10 oz) can diced tomato and green chiles
1 tsp chili powder
1 tsp salt
1 tsp garlic powder
¼ tsp pepper
12 (6-inch) corn tortillas
2 cups (8 oz) shredded cheddar cheese, divided
Directions:
Step 1
Sauté onion and bell pepper in hot oil in a large skillet over medium-high heat 5 minutes or until tender. Stir in chicken and next 7 ingredients; remove from heat.
Step 2
Tear tortillas into 1-inch pieces; layer one-third of tortilla pieces in bottom of a lightly greased 13- x 9-inch baking dish. Top with one-third of chicken mixture and 2/3 cup cheese. Repeat layers twice.
Step 3
Bake at 350° for 30 to 35 minutes.
Note: you can freeze casserole for up to one month, if desired. Thaw in refrigerator overnight and then bake as directed.
 Wanna share one of your recipe's? Email Dana! dana@wzzk.com
Check out Dana's Recipe of the Week Podcast!
Kitchen Bug