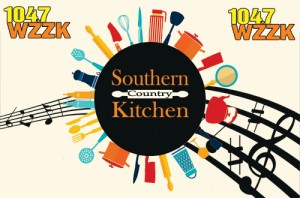 Every weekday from, we'll be cooking up plenty of Alabama's Best Country (requests are always welcome), featuring Daily Specials (a few of the hottest songs now), plus Dana will share the recipe of the week! Enjoy!
Recipe for week of 11/12/18
Tex Mex Salisbury Steak
(recipe courtesy of Pamela via southernliving.com)
Prep time: 20 minutes /Cook time: 25 minutes/Serves 6
Ingredients
1 lb ground round or mild pork sausage
1 small onion, chopped
1 large egg
½ C fine, dry breadcrumbs
¼ C mild salsa
2 TBSP taco seasoning mix
2 TBSP chopped fresh cilantro, divided
1 (2.64-oz) package country style gravy mix
1 (14-1/2 oz) can reduced sodium beef broth
1 (10 oz) can diced tomatoes with green chiles, undrained
Garnish fresh cilantro sprigs
Directions
Combine first 7 ingredients and 1 TBSP cilantro. Shape mixture into 6 (1/3 inch-thick) patties
Heat a lightly greased non-stick skillet over medium-high heat. Add patties; reduce heat to low, cover and cook 8-10 minutes per side or until center is no longer pink. Remove from skillet. Wipe pan clean.
Whisk together gravy mix, broth, tomatoes with chiles and remaining 1 TBSP cilantro. Cook over medium heat 1 minute or until thickened. Return patties to skillet and cook until thoroughly heated. Garnish with sprigs, if desired.
 Wanna share one of your recipe's? Email Dana! dana@wzzk.com
Check out Dana's Recipe of the Week Podcast!
Kitchen Bug