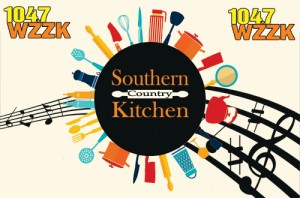 Every weekday from, we'll be cooking up plenty of Alabama's Best Country (requests are always welcome), featuring Daily Specials (a few of the hottest songs now), plus Dana will share the recipe of the week! Enjoy!
Recipe for week of 09/17/18
Pork and Asparagus Sheet-Pan Dinner (courtesy of TasteOfHome.com)
20 minutes prep time/20 minutes cook time/40 minutes total
Ingredients
1/4 cup olive oil, divided
3 cups diced new potatoes
3 cups cut fresh asparagus (1-inch pieces)
1/4 teaspoon salt
1/4 teaspoon pepper
1 large gala or Honeycrisp apple, peeled and cut into 1/2-inch slices
2 teaspoons brown sugar
1 teaspoon ground cinnamon
1/4 teaspoon ground ginger
4 boneless pork loin chops (1 inch thick and about 6 ounces each)
2 teaspoons southwest seasoning
Directions
Preheat oven to 425°. Line a 15x10x1-in. baking pan with foil; brush with 2 teaspoons olive oil.
In a large bowl, toss potatoes with 1 tablespoon olive oil. Place in one section of prepared baking pan. In same bowl, toss asparagus with 1 tablespoon olive oil; place in another section of pan. Sprinkle salt and pepper over potatoes and asparagus.
In same bowl, toss apple with 1 teaspoon olive oil. In a small bowl, mix brown sugar, cinnamon and ginger; sprinkle over apples and toss to coat. Transfer to a different section of pan.
Brush pork chops with remaining olive oil; sprinkle both sides with southwest seasoning. Place chops in remaining section of pan. Bake until a thermometer inserted in pork reads 145° and potatoes and apples are tender, 20-25 minutes. Let stand 5 minutes before serving.
Wanna share one of your recipe's? Email Dana! dana@wzzk.com
Check out Dana's Recipe of the Week Podcast!
Kitchen Bug