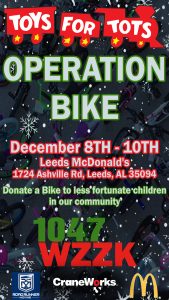 Join us starting at 10am on Friday, December 8th for Operation Bike! Craig Allen will live in a scissors lift until 7pm on Sunday night, December 10th at the Leeds McDonald's! We are looking for new bikes to be donated this holiday season for kids all over the Birmingham area in need.
Every child should know what it's like to get a new bike for Christmas, and with your generosity, we can help make that happen!
Special thanks to Road Runner Moving and CraneWorks for their support of Operation Bike for Toys For Tots with WZZK!
And, thank YOU in advance for donating!