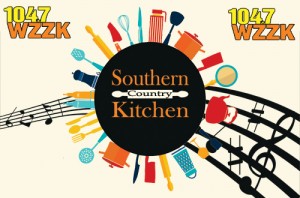 Welcome to WZZK's Southern Country Kitchen!
Every weekday during the noon hour, we'll be cooking up plenty of Alabama's Best Country (requests are always welcome), featuring Daily Specials (a few of the hottest songs now) and Dana's recipe of the day! Enjoy!
Recipe of the day 3/24
Spicy Garlic and Pepper Shrimp(recipe courtesy of Jim via allrecipes.com)
2-1/2 Tbsp. vegetable oil
1/4 cup water
1 cup shredded cabbage
1 tablespoon minced garlic
8 large fresh shrimp, peeled and deveined
2 teaspoons crushed red pepper flakes
2 tablespoons sliced onion
1 tablespoon chopped fresh cilantro
1 tablespoon soy sauce
Directions
Heat 1 tablespoon oil in a skillet over high heat. Add cabbage and 1 tablespoon water stir-fry for 30 seconds. Remove cabbage from skillet and place on a serving platter.
Heat the remaining 1 1/2 tablespoons oil in the skillet over high heat. Place the garlic and shrimp in the skillet and stir until garlic is lightly browned and shrimp turns pink. Add pepper, onion, cilantro, soy sauce and remaining water to the skillet. Stir-fry for 10 seconds. Pour the hot mixture onto the cabbage.
***
Wanna share one of your recipe's? Email Dana! dana@wzzk.com