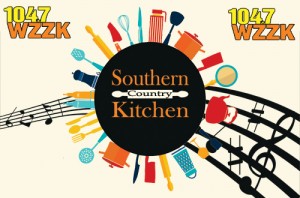 Every weekday from, we'll be cooking up plenty of Alabama's Best Country (requests are always welcome), featuring Daily Specials (a few of the hottest songs now), plus Dana will share the recipe of the week! Enjoy!
Recipe for week of 04/03/18
Italian Sausage and Quinoa Stuffed Peppers
(recipe courtesy of Johnsonville sausage via foodnetwork.com)
Ingredients
1 package (19 ounce) Johnsonville® Italian Sausage Links, removed from casing (Cut sausage link end to end, about three-quarters of the way through. Flip sausage link over, grasp casing and pull off.)
1 tablespoon olive oil
1 small red onion, finely chopped
1 medium red bell pepper, chopped into ¼-in pieces
3 plum tomatoes, chopped (about 1 cup)
4 ounces mushrooms, chopped
2 tablespoons fresh parsley, chopped
1 1/2 cups cooked Quinoa* (follow package directions, about ¾ cup dry, See Cook's Note)
1 teaspoon paprika
1/2 cup Parmesan cheese, grated
1/2 teaspoon salt
6 to 7 medium bell peppers, tops removed, cored and seeded
1/4 cup toasted sliced almonds** (optional, See Cook's Note)
Directions
Cook Quinoa according to package directions, (yield 1 1/2 cups).
Saute the decased sausage in a large skillet over medium heat.
Crumble the sausage as it cooks until its nicely browned and no longer pink, breaking up any of the large pieces, about 7 to 10 minutes. Transfer the cooked sausage to a plate and set aside.
In the same skillet, heat oil over medium-high heat. Saute onion and red bell pepper for 5 minutes or until softened.
Add tomatoes and mushrooms, saute for another 5 minutes.
Remove from heat then add in parsley, cooked Quinoa, paprika, sausage and Parmesan cheese. Stir to combine, taste and adjust seasonings.
Preheat oven to 350°F.
Stuff bell peppers with sausage mixture, dividing equally and gently packing the mixture down. Arrange upright in prepared baking dish.
Cover and bake in preheated oven for about 1 hour or until peppers are tender.
If desired, serve topped with a sprinkling of toasted almonds. 
Cook's Note
*Quinoa is a nutritious whole grain currently found in most supermarkets. Quinoa can be substituted with rice or couscous. **Tip: Toast almonds in a dry skillet over medium heat, stirring and shaking pan constantly, for 3 to 4 minutes or until golden. Immediately transfer to a bowl and let cool.
Wanna share one of your recipe's? Email Dana! dana@wzzk.com
Check out Dana's Recipe of the Week Podcast!
Kitchen Bug