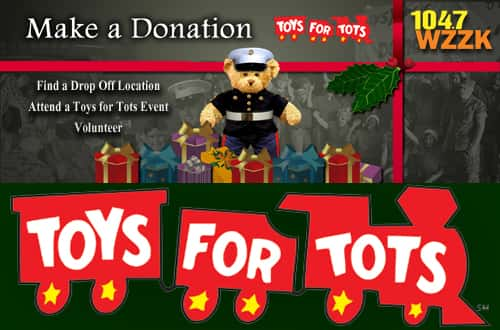 Be someone's Santa Claus this year and help fill stockings for local kids that won't have anything this christmas by donating a new unwrapped toy to the US Marine's Toys for Tots!
Get drop off locations here. Join us at an upcoming toys for tots event to help those in need!
Upcoming Events:

• Stardome Comedy Club Night – 12/1/15
Comedian Scotty K
Free Admission with a new unwrapped toy

• Family Dinner night at local Applebee's restaurants – 12/2/15
Kids eat free with a new unwrapped toy donation
Portion of proceeds benefits Toys for Tots

• Milk and Cookie Night with Santa - 12/10/15
Come meet Santa and enjoy milk and cookies at the Chad Christian Allstate Agency in Pelham

• Bikes for Tots – 12/11-12/12/15
Bike drive at the Hwy 150 Wal-Mart in Hoover. Drop off a new bike or purchase one at the Hwy 150 Hoover Wal-Mart.

• 26 Hour Toy Drive – 12/14/15 starting at 4pm :: 12/15/15 ending at 6pm
Drop off a new unwrapped toy at Legacy BarBq on Hwy 150 in Hoover

• Wrap Up Party – 12/17/15
Free Admission to the Voodoo in Hoover with a new unwrapped toy donation to enjoy live music and a pool tournament with NFL football players, and more!